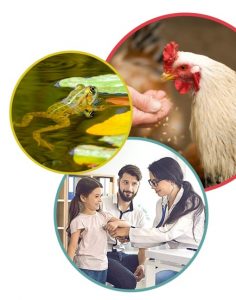 A new master's degree based on the One Health concept, with a specialisation in Managing Health of Populations (OH MHP)
The result of a close partnership between the ENSV-FVI and the Industrial Chair in Veterinary Public Health of VetAgro Sup, the Claude Bernard University of Lyon 1 and private partners.
This international Master's degree focuses on the One Health approach or how to solve questions and make decisions in complex problems involving the three health sectors (human, animal and environmental).
It is one of the Master 2 courses in the Public Health field at the University Claude Bernard Lyon 1.
Course leaders: Thibaud Porphyre, Sylvie Mialet and Florence Ayral Course design manager: Chloé-Louise Morbois
To apply :
https://ecandidat.univ-lyon1.fr/
Contact us :
master-oh@vetagro-sup.fr


BACKGROUND
Implementing robust and efficient measures to prevent and control hazards in crisis and non-crisis situations is challenging, as it requires a broad appreciation of the consequences that each decision and action may have on humans, animals and ecosystems. The One Health concept is a transdisciplinary approach, aiming to better analyse complex health issues and develop appropriate responses. By taking into account the interconnections between people, animals, plants and their shared environment, it provides a holistic understanding of critical health situations.
This Master's degree provides the necessary skills for students and professionals wishing to work or to further advance their career within the human, animal and ecosystem health sectors, whether they wish to be or are currently involved in organisations, institutions or industries at local, national or international level.

OBJECTIVES
This course aims at acquiring transdisciplinary skills and their application in solving complex health problems. Students will be exposed to the key disciplines of the One Health approach (e.g. epidemiology, socio-economics, ecology, decision theory, international governance) at an intermediate or advanced level, in order to acquire the specific languages and a thorough understanding of the assessment, decision and action mechanisms at play. Students will  apply their acquired knowledge and skills to case studies and role-playing exercises in which they will have to evaluate, decide and act upon complex health issues within the One Health framework.

ENTRY REQUIREMENTS
Subject to approval by the selection committee:
The programme is mainly intended for high-calibre students with a scientific background.
Students must hold a first year Master's degree (M1) or a national/international equivalent degree in the following disciplines: medicine, pharmacy, veterinary medicine, economy, biological science, ecosystem health, life sciences, social sciences.
This programme is also intended for working professionals and for those currently seeking work to support their professional development plan. These candidates must justify significant professional experience in the aforementioned disciplines: e.g. official veterinarians, medical doctors, pharmacists, health executives, directors of health care establishments, quality and risk managers.

PROGRAMME STRUCTURE
SEMESTER 3 : 30 ECTS
Core curriculum (21 ECTS)
Biodiversity and Health. 3 ECTS.
Socio-economy. 3 ECTS.
International standards and One Health. 3 ECTS.
Epidemiology. 3 ECTS.
Statistics applied to health. 3 ECTS.
Case study. 3 ECTS.
Decision-making in complex situations and communication. 3 ECTS.
Option: Two orientations (9 ECTS)
Orientation 1: Evaluating risk for decision 
Linear models and generalized linear models. 3 ECTS.
Advanced epidemiology and modelling. 6 ECTS.
Orientation 2: Managing crisis
Advanced economics. 3 ECTS.
Crisis management and decision making. 6 ECTS.
SEMESTER 4 : 30 ECTS
Professional internship in a research, industrial or institutional organisation. Technical dissertation or scientific article with an oral examination. 30 ECTS.

PROGRAMME DESCRIPTION
The programme is delivered entirely in English and over a one-year period. The programme begins in September with lectures, tutorials and group activities running full-time over the course of 4 months. The course structure will depend on the student's chosen orientation.
A 4- to 6-month internship is required and is under the responsibility of the internship supervisor. The supervisor and subject of the internship should be approved by the Master's pedagogical committee beforehand.
Evaluation of the work carried out by trainees during their internship can take various forms: e.g. poster, oral and digital communication, scientific article, blog, internship dissertation and defence.

CAREER OPPORTUNITIES
Career opportunities may include all types of health professionals involved in risk assessment or risk management. Some examples are given below:
Consultants and experts : for ministry or departments in charge of health, agriculture, livestock development and animal health and welfare; for health risk assessment agencies; within environmental and pharmaceutical companies; for research and development offices.
Senior level scientists for the assessment of public and veterinary public health within agricultural organisations, farmers associations, national and international institutions, as well as non-profit organizations.
Research managers within environmental and pharmaceutical companies and development offices.
Researchers in the field of epidemiology, zoonosis, animal and human Health (after acquiring a PhD).